Your Commissions Inc site can pull leads from Zillow, automatically placing them in your CINC Platform. Your Zillow Leads can get set up for CINC Automations, receive property alerts, and more! To set this integration, perform the following steps:
1. In the top right corner of your CINC site, click on your name and select Profile & Settings.
2. Select the Integrations tab within your Profile.
3. Navigate to the Zillow Tech Connect or Zillow Contact API. If you're integrating Zillow Leads with CINC, expand the Zillow Tech Connect section to reveal your Zillow Partner ID. Should you need to integrate Zillow Lender Leads, expand the Zillow Contact API instead.
4. Copy the Partner ID for the option you'd like.
Now navigate to your Zillow dashboard and sign in.
1. Hover over 'Agent Hub' and click on 'Account'
2. Click on 'Connect to my CRM' and then click on 'Add Partner'

3. Select 'Commissions Inc' from the drop down list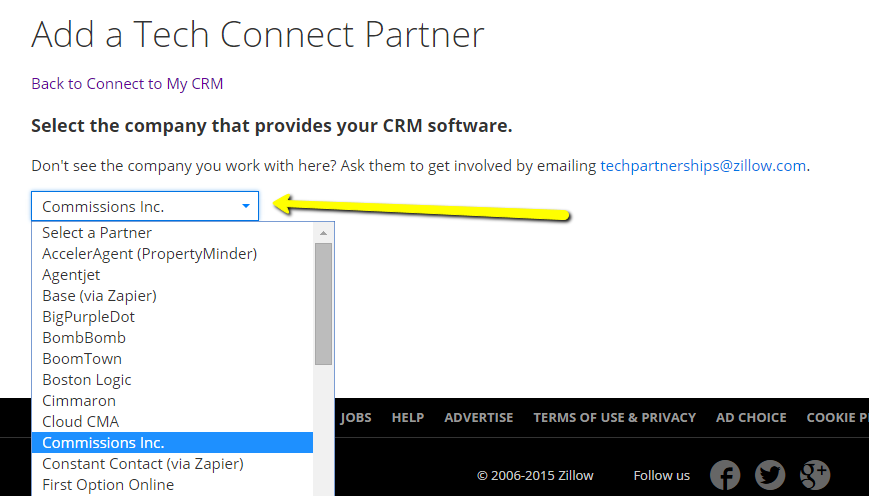 4. Paste the key into the 'Partner ID' box and Save
5. You can check the status of the connection on the Connect My CRM page
Leads generated on Zillow going forward will automatically flow into your CINC site going forward. Leads previously generated on Zillow will not pull to your CINC site.