Social Media and Your Site Follow
Using Social Media with your Commissions Inc Site:
Social media is a powerful and easy way to maintain connections with clients, promote your listings, and reach new audiences. We provide several different options for leveraging social media. This section explains how you can connect your site with social networks. If you have any social media related questions please contact your client service advisor.
Adding Social Media Links
To add existing social media networks to your site navigate to your General Settings (Settings > General). Enter the URLs for any existing networks you'd like to add, and hit 'Update'. 
A link to any social network that has been added to your site appears at the bottom of your Commissions Inc. (CINC) site, and a link is included in all of the property alert emails your leads receives. Only one set of links can be added per platform.
The connect section of your CINC site:
The connect section of a property alert email (links will be shown for any of the five social networks you have added to the site):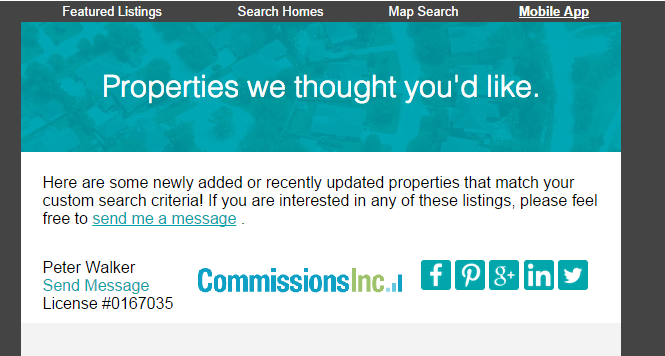 Manually Sharing Properties via your Dashboard:
Post Directly to Facebook Manually
You can manually post a particular property to your personal FB profile, a page you manage, a group you're a member of, on a friend's timeline, or in a private message. Whichever agent shares the property, will have any leads generated from the post automatically assigned to them.
You do this by navigating to the "Properties" tab, and selecting the share link directly across from the property details (see images below).
The posting options for Facebook will be determined by the people, pages, and groups connected with the personal profile that you are logged into when you click on the link. If you are posting to a page, and you manage multiple, you'll need to be sure to note which page you'd like the post to appear on.
Google Plus Pages:
While not many people are actively using Google as a true social network, having a Google page can improve your CINC site's search engine optimization to improve your placement in organic search.
If you would like to create a Google page yourself, we recommend creating a "Local Business" page. The local pages have slightly higher SEO value than the company pages, so if you have the ability, that's your best option. Here's an article that will explain the process: https://support.google.com/plus/answer/1713911. If you create your own page, it's very important that you use your Commissions Inc URL as the website address to get the best possible results.
If you have an existing Google business page,  be sure to include that link in your settings area.